A sandwich filled with meatballs.
You can't see the meatballs in the picture as they are hiding behind the runny, melted mozzarella.
Ingredients for 2-3 sandwiches:
400 g ground beef
1 small onion
1 clove garlic
1 chili pepper
1 egg
25 g bread crumbs (or dry bread)
100 ml milk
salt
pepper
2+3 tablespoon hemp seed oil
2 tomatoes
1 tablespoon walnut oil
1 teaspoon balsamic vinegar
1 tablespoon ketchup
rocket salad
3 long bread rolls (with seeds)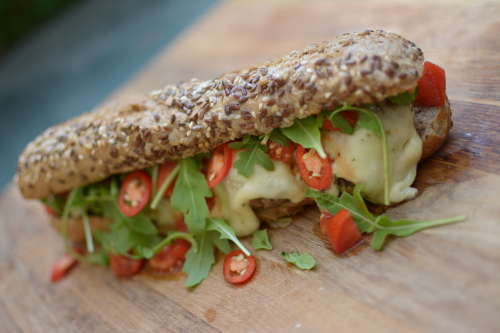 Pour the milk over bread crumbs and let soak until the milk is absorbed. Combine the soaked bread crumbs with all the other ingredients: finely chopped onion, garlic, chili pepper, salt and pepper. Shape this mixture into balls that are 4-5 cm in diameter. Fry them in hemp seed oil in order to get a more special flavour. Let them fry over medium heat until the top sides of the balls are also browned. Turn them over and fry the other sides for another 3-5 minutes.
In the meantime, chop the tomatoes into tiny cubes, salt a bit and season with ketchup, balsamic vinegar and walnut oil.
Toast the inside of the bread roll halves in the hot pan then pile the meatballs and the mozzarella on one half of each sandwich. Top with tomato salsa and some extra rocket salad.